5 Day Spring Black Bear Hunts
May - June, $5,550.00

(1 on 1 Guide)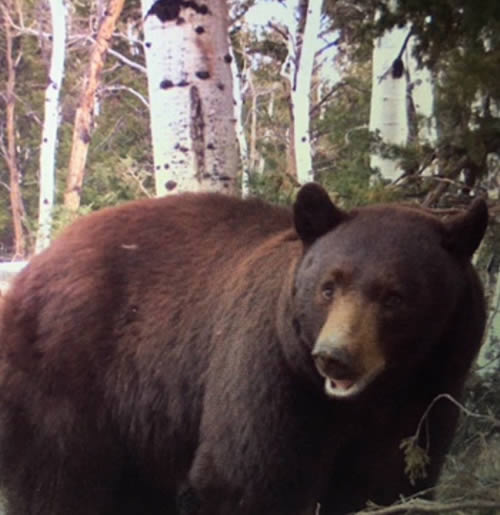 Thank you for your interest in our exciting Spring Black Bear hunts! We are pleased to offer quality hunts for trophy black bear from our private ranch properties in and around the high country of the Medicine Bow Mountains of Wyoming! The Medicine Bow's are home to a healthy population of big bears including a wide variety of color phases ranging from coal black or chocolate brown, to red, cinnamon and blonde. In the spring of the year, the average mature Rocky Mountain Black Bear will weigh between 250 and 350 pounds! However, our hunters have taken big boars weighing in excess of 450 pounds, and hides squaring over seven feet! We wish to harvest only large adult bears, therefore we limit our services to six to eight hunters per year, insuring top quality hunting and personalized service. Through the years, our hunter's success rates have averaged well over 75%, archery or rifle, on good mature bears!
Our Bear hunt is a 5 day spring vacation conducted on our exclusive private ranch leases within the Laramie, Snowy and Sierra Madre mountain ranges. Our trophy bear hunting is done late in the afternoon and evenings over active, proven baits, that have been in the same strategic locations for many years! Spring is a wonderful time to enjoy Wyoming's high country, with abundant wildflowers, lush green grasses, and a wide variety of wildlife to enjoy in a fresh new season! And thankfully, we have no black flies and very few mosquitoes to bother us! Our goal is to provide our spring bear hunters with a total vacation experience! In addition to your bear hunt, enjoy praire dog/varmint shooting, excellent trout fishing in the Blue Ribbon North Platte River, Saratoga Lake, or at the RCO lodge in North Spring Creek, site seeing, hiking and shed antler hunting, you choose, it's your vacation! A typical day begins with a hearty breakfast served at 9:00 a.m. Then our bear hunters are free to entertain themselves as they please or simply relax around the lodge while the guides are running baits for the evening hunts. A late afternoon lunch is served around 2:00 p.m. Depending on the stand to be hunted that evening, our hunters and thier exclusive guide depart the lodge to arrive and set up on thier stand by 4:30-5:00 p.m. Of course, you will sit on stand until darkness around 9:00 p.m. then back to the lodge for a delicious evening meal before retiring for the evening.
Since 1979, Rough Country Outfitters and Guides, LLC and their hunters have been consistent award winners in the Wyoming Outfitters Association & SCI trophy awards competition, for the finest big game trophies taken by outfitted hunters throughout Wyoming each year! We would be pleased to add your name to our long list of happy, successful hunters! After reviewing our literature, please feel free to call anytime to discuss any questions you may have about our services. It would be our sincere pleasure to outfit a great bear hunt for you! We look forward to hearing from you soon!