3 Day Purebred Merriam's Hunt
April 20 - May 20, Lodge Based Hunt $1,950.00, Town Based Hunt $1,650.00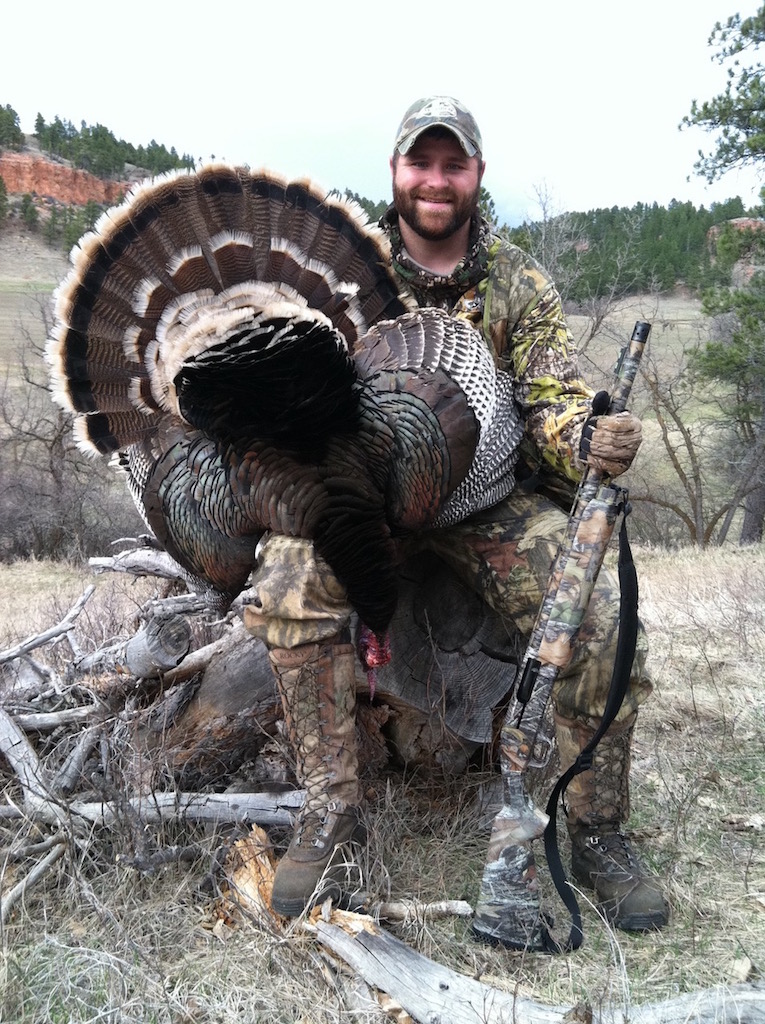 Thank you for your interest in our quality, private ranch hunting opportunities. RCO offers an excellent 3 day hunt for gorgeous, purebred Merriam's gobblers, boasting very high shooting opportunities along with harvest success, year after year! We can accommodate a maximum of 8 guests per hunt, with any party of six or more having RCO's beautiful lodge and private ranch to themselves for their hunt! A representative of RCO meets our guests in downtown Hulett, Wyoming at 4:00 p.m., the evening before the scheduled hunt begins, escorting them to the ranch to get settled into the lodge before supper, followed by a short hunt orientation, before retiring for the evening. One professional guide will be assigned per every two guest hunters, and will provide all transportation and guiding services on RCO's private ranches.
RCO's typical day begins well before sunrise with a light, continental breakfast, before heading out into the field for an exciting morning of Merriam's turkey hunting! If our guest's so choose, they may do some turkey calling on their own, but they will always be accompanied and/or assisted by RCO's very capable, professional guides. After the morning hunt, a hearty "brunch" will be served back at the lodge by RCO's full-time cook. When needed, a late afternoon hunt, combined with an evening scouting trip to roost a few gobblers for the following morning's hunt, then we're back to enjoy the warmth of a cozy wood stove fire, and a delicious, home-cooked supper! After a great evening meal, play a game of billiards, darts or cards in the lodge's recreation area, or simply kick back, relax and watch a little TV. The second hunt day may be a repeat of the first day, with the hunt concluding after the third morning's hunt, and departure from the lodge after lunch.
Again, our private ranch, fully outfitted and guided Merriam's Hunt includes: Three nights accommodations at RCO's beautiful lodge on the ranch, deluxe family style meals, one professional guide per two licensed hunters, and one Merriam's gobbler. All inclusive at ($1,950.00 per adult/$1,650.00 per youth to 18 yrs. for Lodge based hunt or $1,650.00 for Town based hunt), State & County Meals, Lodging & Use Taxes will apply. Purchase Wyoming Non-Resident Turkey License and Conservation Stamp at ($95.50), over the counter or online with WGFD. Family group package discounts may be available. Relax, explore and enjoy Mount Rushmore and Devils Tower Nat'l Monument while you are in the area!
Since 1979, Rough Country Outfitters and Guides, LLC has provided quality hunts for hundreds and hundreds of satisfied hunters from across the country! We would be pleased to add your name to our long list of happy, successful hunters! After reviewing our literature, please feel free to call anytime to discuss any questions you may have about our services. It would be our sincere pleasure to outfit your next hunt for a big Wyoming gobbler, we look forward to hearing from you soon!