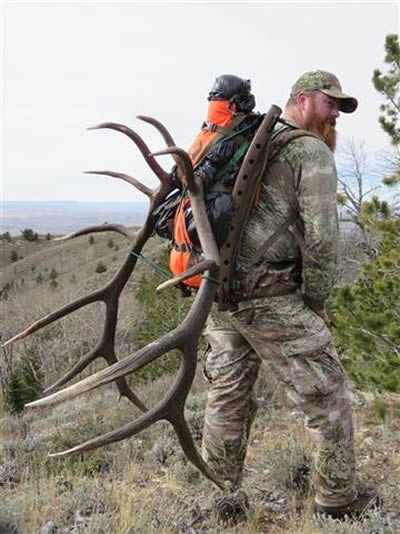 We are an honest, hard working outfit, but make no guarantees related to hunt success! We have no control over season closures or adverse weather conditions such as heavy rain or snow, heat and drought, floods or wildfires that Mother Nature may impose on us! Nor do we have any control over a hunter's physical conditioning or shooting abilities! However, we do guarantee to do everything within our control to see that our guests have a safe, successful, and memorable experience while hunting with Rough Country Outfitters and Guides! We believe that hunting success is a great reward for good planning, reasonable preparation and serious efforts by all involved! A little bit of "Lady Luck" doesn't hurt anything either!
We suggest each hunter recognize the importance of proper physical conditioning for his or her chosen hunt and get in the best shape possible. Also, know your weapon. Make sure it is properly sighted in and practice shooting from different yardages and positions. The hunter that is prepared physically and knows his weapon well will generally have a more enjoyable and successful experience, and it could mean the difference between a once-in-a-lifetime trophy or a terrible disappointment. Whether you are a rifle or archery hunter, if you should wound an animal, RCO will do everything within our power and control to help you recover your game. In the unlikely event that we do not recover the wounded animal, due to our controlled harvest and managment policies, your license would be considered "filled" and your hunt for that species would be concluded. As a final note, we suggest that our hunters come mentally prepared with a good sportsmanlike attitude and a sincere desire to hunt. And remember, the success of a hunt shouldn't be measured by the size of a trophy head alone, but rather by the total experience.
Since 1979, Rough Country Outfitters has built a reputation as a high success operation. Our success is well documented with literally hundreds and hundreds of successful, satisfied hunters from all across the nation! Over the years, we have averaged a harvest success rate of 75% or better on our rifle hunts for Trophy Elk, Mule Deer, White-tailed Deer, Antelope, Black Bear and Merriam's Turkey, with shooting opportunities of 75 to 100%! Our archery hunts have also produced excellent shooting opportunities and very high success rates in excess of 75% most years! Rough Country Outfitters and their hunters have been consistent award winners in the annual Wyoming Outfitters Association / Safari Club International big game competitions, for the finest trophies taken by outfitted hunters each year! We would like to add your name to our long list of successful, happy hunters! Check us out, talk with our references, see what they have to say about our outfit.
Lastly ………… Go afield with a good attitude, with respect for the wildlife you hunt and for the forest and fields in which you walk. Immerse yourself in the outdoor experience. It will cleanse your soul and make you a better person. - FRED BEAR