6 Day General and Limited Quota, Trophy Mule Deer Hunts
Oct. 1 - 14 or 15-30, $6,550.00,
2 on 1 guide (2 to 4 preference points required)
Oct. 1 - 14 or 15-30, $7,950.00
Hard-Core Hunt, 1 on 1 guide (2 to 4 preference points required)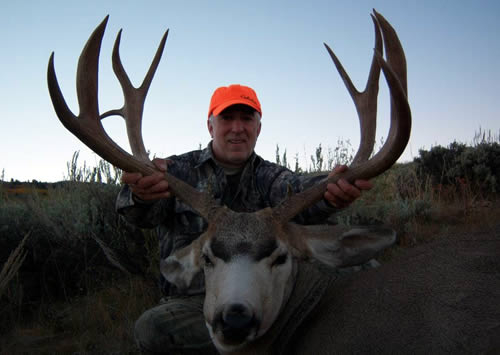 Our limited quota, early October mule deer hunts take place on large, private ranches in the high-country of South Central Wyoming, and area well known for producing monster mulies! This is our premier hunting opportunity for extreme trophy mule deer! This hunt is designed with the serious trophy deer hunter in mind, and limited to a maximum of eight hunters per season! We have been on a quality deer management plan for the past 25 years in this area! To qualify for harvest, a buck must meet our management requirements, consisting of a combination of factors including: ears width or wider, four points to a side or better, good mass and deep forks. In short, only big mature, trophy bucks are allowed to be harvested, typically bucks being 5 ½ years and older! Due to the ideal habitat, strong genetics and sound management of our area, our hunters consistently take older age class bucks averaging from 26 to 28 inches wide, scoring from the mid 160's to high 180's gross Boone and Crockett points or more! Our hard working guides and their hunters have also taken their share of monster mulies from 30 to 34 inches, typical and non-typical bucks, scoring from 190 to over 230 B&C points!
Over the years, hunter success rates have averaged better than 75%, and with perfect weather, some years have produced 100% harvest success! This special controlled harvest trophy hunt is not recommended for the casual hunter that feels he absolutely fill his tag before he can go home satisfied and happy! However, this hunt is definitely a tremendous opportunity for the serious trophy hunter that hopes to collect a potential world-class trophy mule deer! Trophy antelope may also be hunted in combination with our early October mule deer hunts! Please ask us for details about potential "management mule deer" hunting opportunities on select hunts!
5 Day General Permit, Trophy Mule Deer Hunts
Oct. 1 - Nov. 20, $5,950.00,

2 on 1 guide (1 to 2 preference points required)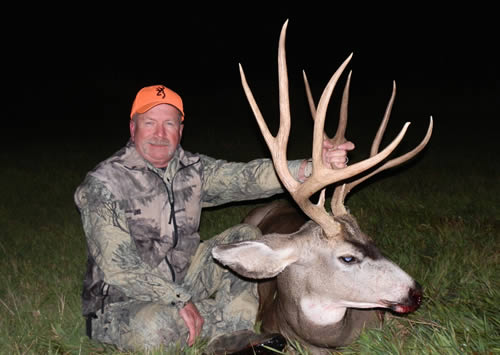 Our general permit, October mule deer hunts take place on several large private ranches located in the rugged back-country of South Central Wyoming. The trophy deer taken on these hunts are consistently, good mature bucks, averaging 24 to 28 inches wide, typically scoring in the 150's to 160's, with the occasional harvest of a dandy buck in the 170's B&C or better! Excellent success rates of over 90%, has been the rule for many years on these mule deer hunts! This is a good, solid hunt for respectable representative mulie bucks, suitable for most any hunter looking for a nice trophy mule deer for their wall! These great deer hunts may be combined with of our limited entry elk hunts as well! Hunt accommodations may vary from deluxe wall tent camps or cozy bunk-houses on the ranch, to local motels conveniently located near the hunt areas. Please contact us for further details about these hunts!
Our general perm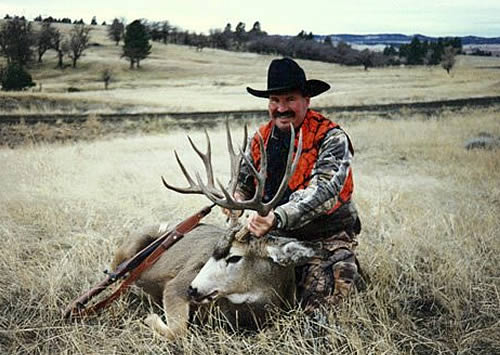 it, November mule deer hunts take place on several large private ranches located in the beautiful Black Hills of Northeast Wyoming. This area is well known for high populations of mule deer and whitetails alike! The gently rolling terrain consisting of agricultural fields, mesas, rim-rocks and canyons, covered with ponderosa pines and oak brush thickets, all providing superb deer habitat, producing the highest deer densities in the state! Over the past 30 years, our hunters have enjoyed near 100% shooting opportunities andharvest success on good, mature bucks, with average spreads of 22 to 26 inches wide and four points to a side or better! Because we also have some outstanding whitetails on our ranches, our hunters may choose to harvest a buck of either species, should the opportunity present itself! Our Black Hills deer hunters enjoy deluxe accommodations and meals at the beautiful lodge at the Diamond "L" Guest Ranch! This hunt is an excellent choice for first time western hunters, mixed hunting parties, father and sons / husband and wife teams, or anybody looking for a generally easier, relaxing and fun hunt, combined with high success on nice trophy deer!