Travel
For our guests that wish to fly out, commercial flights are available into Casper, Laramie, Gillette, WY., Denver, CO., or Rapid City, SD. Rental vehicles are available at any of these airports for your drive to your hunt destination. As a rule, just a small economy car large enough to get you and your gear loaded in, is adequate, as it is all good highway and improved county road travel to our various hunt destinations. If you plan to drive the entire trip or fly out and rent a vehicle at the airport, we will provide detailed maps and directions to your hunt destination or meeting point, well prior to your hunt.
Arrivals & Departures
We request that our guests arrive by 4:00 p.m. the afternoon before their scheduled hunt begins, at a pre-determined meeting point. After meeting our guests, we usually go to the shooting range and check rifles/scopes. Then we head to camp and get everyone settled in before dinner that evening! The hunt begins the following morning and is concluded by 12:00 p.m. on the last scheduled hunting day, to allow time for tracking, downed game retrieval from the field, and/or meat handling/processing, with departure from camp by 4:00 p.m. that afternoon. Due to our booking schedule, we are unable to accommodate early arrivals or late departures from scheduled hunt dates. We would be happy to recommend other lodging and dining facilities should you wish to spend more time in the area. Likewise, we can make no fee or date adjustments for no-shows, late arrivals or early departures from previously booked dates.
Booking Terms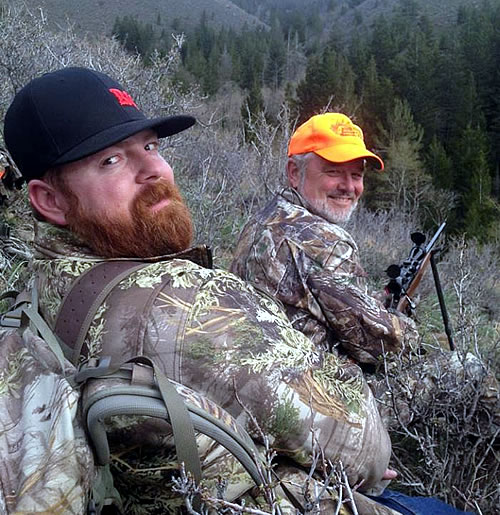 RCO's LISTED HUNT RATES ARE PRICED PER PERSON, BASED ON TWO HUNTERS PER ONE PROFESSIONAL GUIDE, UNLESS OTHERWISE NOTED.
As a rule, most hunters plan for and book a (2 on 1) guided hunt, to share a guide for their traditional western hunting experience. For example, two hunting buddies, fathers and sons, husbands and wives, etc., wishing to enjoy their hunt together. If you want to save additional expenses by sharing a hunting guide with another hunter, (2 on 1) we would strongly recommend you book with your own hunting buddy. However, RCO has successfully paired single hunters with other compatible, single hunters for many years. While there are no guarantees that will happen, we will make every effort in trying to pair up two suitable, single hunters for a (2 on 1) hunt and pricing. If we are unable to pair you up with another compatible single hunter, or if you prefer to book an exclusive guide as a solo hunter, you will be charged the additional (1 on 1) guide fee.
Exclusive 1 on 1 guide service is available on most hunts for an additional fee of $250.00 per scheduled hunting days. When possible, non-hunting companions are welcome for an additional fee of $250.00 per scheduled hunting days. If the non-hunting companion wishes to participate with the hunter in the field, the hunter must book an exclusive 1 on 1 guided hunt only.
We accommodate a very limited number of hunters each year and reservations should be made far in advance to secure your preferred dates. All bookings are on a first come, first served basis. We will "pencil you in" on our schedule for up to 10 days, but no hunt is reserved and considered "booked" until deposits/payments have been received by Rough County Outfitters. To book a hunt, a non-refundable deposit/payment of $1000.00 will hold your hunt reservation until January 1st, the year of your hunt. A full deposit/payment totaling 50% of the value of the hunt, plus required licence fees, must be in place by January 1st, the year of your hunt. The final payment on your hunt will be due in full by August 15th, the year of your hunt. All reservations made after the WGFD licence drawing will require a non-refundable deposit/payment of 50% at the time of booking, with payment in full by August 15th, the year of your hunt. Personal or certified checks, money orders or credit cards are acceptable for all payments to RCO. A transaction fee of 4% will be added to all credit card payments. A Wyoming public lands use fee of $25.00 to $50.00, and a Wyoming sales and use tax of 10% will be charged on meals and lodging only, and is based on a daily rate of $100.00 per person, per day. No reservation is confirmed until Rough Country Outfitters and Guides, LLC, has received a full 50% deposit/payment and required paper work, including; booking contract, liability release and health & dietary questionnaire.
All hunt reservations deposits/payments are non-refundable after January 1st, of the year the hunt is booked for, unless the booked guest can furnish RCO with an acceptable substitute for themselves. Beyond these terms, only upon failure to draw a license will a deposit/payment be returned, within 30 business days of the WGFD on-line drawing results. Withdrawn license applications do not constitute a failure to draw a license. We can make no refunds or adjustments for late arrivals, early departures, no-shows or late hunt cancellations. Likewise, the full contracted hunt fee is the responsibility of the booked client, and owed to the outfitter regardless of the clients participation in his or her booked hunt. UPON BOOKING YOUR HUNT, RCO STRONGLY RECOMMENDS PURCHACING TRAVEL INSURANCE TO PROTECT YOUR INVESTMENT. Deposits/payments and/or licenses are not transferable to another person. Rough Country Outfitters and Guides, LLC, reserves the right to return deposits and/or hunt fees, and/or refuse service to anyone, at any time. Licenses are readily available for most of our hunt areas. However, if you have booked a single or combination species hunt, and are unsuccessful in drawing any license, your deposit/payment will be refunded within 30 business days from notification of WGFD license drawing results. Or you may choose to leave your deposit/payment to secure priority hunt dates for the following year at previously booked rates. Deposits/payments are nonrefundable, if you have booked a combination species hunt and are successful in drawing any one license, but are unsuccessful in drawing other licenses. The hunt dates and fees may be adjusted to accommodate the species and license(s) drawn.
Rough Country Outfitters and Guides, LLC, pledges to make every effort to provide their guests with a safe, successful and memorable outdoor experience! Jim Schell, DBA Rough Country Outfitters and Guides, LLC, are fully licensed, Insured, Authorized and permitted to operate on the North & South Medicine Bow / Routt National Forests, BLM Lands, State of Wyoming Lands, and Leased Private Lands. RCO is a proud equal opportunity service provider & employer. (WYOMING BIG GAME OUTFITTERS'S LICENSE #BG-207).
Application & License
All Wyoming big game licenses for Elk, Deer and Antelope, are issued on an application/drawing basis. A non-refundable application fee of $15.00 is included in the license fees for these species. Black Bear, Mountain Lion, Turkey, Fishing and Archery Licenses, as well as Conservation Stamps, can be purchased anytime online or at any license selling agent in Wyoming. We request that hunters booked with us have their application information and license fees to us no later than 30 days from application deadlines so we may personally review and submit the online application for our clients. Please contact us for current hunt information, booking forms, license fees, and application deadline information. On-line information is also available from the Wyoming Game and Fish Department, 5400 Bishop Blvd. Cheyenne, Wyoming. 82006. PH: 307-777-4600, Web-site: http://gf.state.wy.us
Non-Resident Application Deadlines & License Fees
A $15.00 non-refundable application fee is included in all draw licenses. A 2.5% credit card processing fee is NOT included in the license prices. All preference point purchases are optional.
| | | |
| --- | --- | --- |
| Special Elk/Fishing | Jan. 1-31 | $1,965.00 |
| Regular Elk/Fishing | Jan. 1-31 | $707.00 |
| Youth Elk/Fishing | Jan. 1-31 | $290.00 |
| Reduced Price/Left Over Cow Elk | Jan. - Aug. | $303.00 |
| Youth Cow Elk | Jan. 1-31 | $115.00 |
| Elk Preference Point Only | July - Oct. 31 | $52.00 |
| Special Deer | Jan. 1 – May 31 | $1213.00 |
| Regular Deer | Jan. 1 – May 31 | $389.00 |
| Youth Deer | Jan. 1 - May 31 | $125.00 |
| Deer Preference Point Only | July 1 - Oct. 31 | $41.00 |
| Special Antelope | Jan. 1 - May 31 | $1213.00 |
| Regular Antelope | Jan. 1 - May 31 | $341.00 |
| Youth Antelope | Jan. 1 - May 31 | $125.00 |
| Antelope Preference Point Only | July 1 - Oct. 31 | $31.00 |
| Spring Black Bear | Purchase Anytime | $373.00 |
| Mountain Lion | Purchase Anytime | $373.00 |
| Merriam's Turkey | Purchase Anytime | $74.00 |
| Archery License | Purchase Anytime | $72.00 |
| Conservation Stamp | Purchase Anytime | $21.50 |
Got Preference Points?
Have you started buying/collecting your Wyoming Big Game Preference Points yet? If you are planning on hunting big game in Wyoming anytime in the near future, it's a must! It's never too late to start planning and purchasing your preference points to draw that "tag of a lifetime"! The new system is working very well for sportsmen willing to pay a small price for a nearly guaranteed chance to draw a great Wyoming big game tag! The application period for preference points only, is July thru October each year. Call us for all the details about the preference point system and how it can work for you! In fact, if you would like Rough Country Outfitters to manage your preference points for you, just give us a call and we will get you started!
Trophy Care, Meat Processing & Taxidermy
After a successful hunt we will expertly field dress and field cape your trophy for you. Upon harvest, hunters are responsible for furnishing their own game bags, if they so desire. Meat processing is available locally, as a rule. Processing fees vary from $150.00 for antelope or deer, up to $450.00 for elk, depending on the size/species of the animal and customer requests. If you do not wish to take your meat with you, arrangements can be made for people in need to receive it. However, under Wyoming state law, the hunter is still responsible to pay for the basic processing fees before donation. RCO and thier guides DO NOT offer meat processing services at any camp, beyond trophy caping, field dressing, quartering and/or breaking down of a carcass in the field. For convenience, RCO recommends that hunters break down their game carcasses (boned-out or quartered) into large coolers with dry ice, for transport to their own local game processor.
Top quality taxidermy work is available locally, from our skilled and highly recommended taxidermists. We recommend that hunters, particularly those that are flying out for their hunt, leave their trophies with our taxidermist to ensure the safe keeping of the cape and horns. After completion, the trophy mounts can then be shipped to the hunter in safe, sturdy crates. Taxidermy information, rates/fees available upon request, anytime. With the current nation wide regulations and travel restrictions due to "Chronic Wasting Disease" prevelance in Mule Deer, White-tailed Deer, Elk and Moose, it is advisable for the traveling hunter to strongly consider, leaving their trophies to be handled by local, in state taxidermists for preperation, mounting and shipping.
Big Game Hunters Suggested Equipment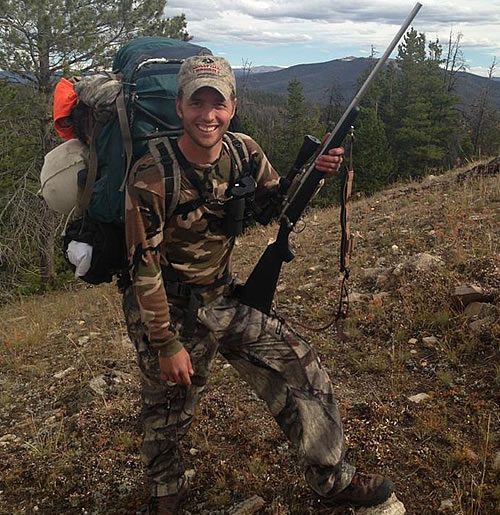 Spring and Fall weather conditions in Wyoming, can range from pleasant, shirt sleeve temperatures, to downright cold and miserable! Well planned packing will definitely add to the enjoyment and success of your hunt. We suggests that you bring all you need to be comfortable, but no more than is really necessary. Soft sided duffel bags are best for all purpose packing. If you are driving out for your hunt, you might consider bringing a few coolers along, to take your processed game meat home with you. Individual needs may vary from our list.
RIFLE HUNTERS, We recommend a flat shooting, bolt action rifle, topped with a quality variable scope. Good caliber choices for hunting Wyoming's big game would be .270, .280. .30-06, 7mm, or .300 Winchester Magnum. We recommend shooting the heaviest grain bullets that your rifle will shoot well, especially when hunting elk. We highly recommend the use of shooting sticks or long bipods, they are extremely helpful in the field, especially if you will spend some time practicing your shooting off of them! We require our hunters rifles to be sighted in, dead-on at 200 yards, and our hunters competent and confident in shooting out to 300 yards! Any shooting beyond 300 yards will be totally up to the individual hunter and his/her level of confidence. Wyoming state law requires that anyone hunting during an open firearms season, must wear a florescent orange hat or vest, while afield. Wyoming law also requires that any person born after January 1st, 1966, must possess a "Hunter's Safety Certificate" while afield.
ARCHERY HUNTERS, We recommend bows with draw weights of 60 pounds minimum. Sharp, fixed blade, cut-on-contact broad-heads such as Muzzy's or Montec's or chisle tips such as Slick Tricks or Thunder-Heads with a minimum cutting width of one inch, must be used. While mechanical broad-heads may perform well on lighter game, we DO NOT recommend using them for much larger, heavier boned, Bull Elk! For maximum penetration on, heavy boned big game, elk in particular, we recommend using the heaviest arrows and broad-head combinations that your particular bow/equipment will handle well. Good camouflage patterns for Wyoming's varied landscapes tend to be the lighter colored, broken patterns such as Real-Tree Advantage Max 1, Sitka Gear, Kuiu Gear, Military ASAT, Predator, and Kings Camo Sage. We also recommend/require the use of a camouflage headnet or camo face paint, as well as the use of scent eliminating products of your choice. Please practice shooting from all kinds of positions and yardages. Bowhunters must buy an NR Archery License, on-line or over-the-counter.