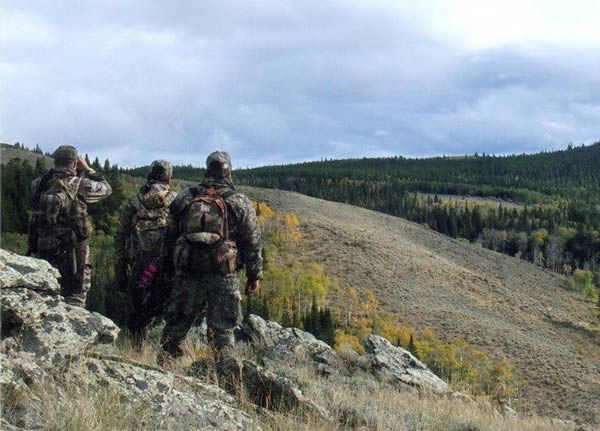 Thank you for your interest in Rough Country Outfitters and Guides, LLC, and Wyoming's awesome big game hunting opportunities! Since 1979, Rough Country Outfitters and Guides, has offered a variety of top quality, 100% fair chase hunts on our large, private ranch properties throughout Central and Eastern Wyoming! We lease the exclusive hunting rights to nearly 200,000 acres of exceptional private land habitats, providing safe haven for healthy populations of Rocky Mountain Elk, Whitetail and Mule Deer, Antelope, Black Bear and Turkey!
Due to the vast areas and the wide variety of prime habitat that we control, we are able to accommodate virtually any hunter's physical abilities and individual interests for a successful hunt! We have gentler terrain well suited for less active hunter needing an easier hunt, as well as rougher terrain to challenge even the most physically fit, hardcore hunter! Whether you are a rifle or bow-hunter, we have the right hunt to suit your needs! Our success is well documented with literally hundreds and hundreds of happy hunters from across the nation! The bottom line: Our well managed properties hold excellent big game populations with fantastic trophy animals! Best of all, we get to enjoy Wyoming at it's finest! Spectacular, wide open spaces and beautiful mountain vistas in every direction, no high fences here! And thankfully, we have no Wolves or Grizzly Bears impacting the game herds on our private ranches!
Rough Country Outfitters and Guides and their hunters have long been a consistent award winning outfit among the Wyoming Outfitter's Association / Safari Club Internationals, trophy awards competition, for the finest trophies taken by outfitted hunters throughout Wyoming each year! We would be pleased to add your name to our long list of happy, successful hunters! After reviewing our information, please feel free to contact us at any time to further discuss any questions you may have about our services. It would be our sincere pleasure to outfit a great hunt for you in Wyoming!
---
First Class Hunts
Since 1979, Rough Country Outfitters and Guides, LLC, has offered top quality, private ranch hunts for Wyoming's best big game trophies! We provide unequaled, 100% fair chase hunting opportunities to a limited number of discriminating hunters each year! Our goal is to provide our guests with a first class hunt and memorable experience! Every detail for a successful hunt is considered, from our top quality professional guides, to our comfortable camp accommodations and excellent meals, to hunting the best big game areas available. Rough Country Outfitters offers a wide variety of packages to suit any hunter's budget and desires. Our fully outfitted hunts include delicious, all-you-can eat meals, lodging, field transportation, professional guide service, and field care of your meat and trophies. Hunts are available from your choice of several exclusive Private ranch leases! Our hunts are usually arranged with two hunters per one professional guide however, exclusive one hunter per one guide service is available for an additional fee. Our groups are kept small to insure a top quality, personalized hunting experience. And to really round out your total vacation experience with us, we include varmint or predator hunting and/or fishing, where available, at no extra charge!
Exclusive Private Ranches
Our highly successful private land hunts for Elk, Mule Deer, White-tailed Deer, Antelope, Spring Black Bear and Merriam's Turkey, are conducted on several well managed private ranches totaling nearly 200,000 acres. We have "exclusive" hunting privileges on these ranches and consistently produce success rates of 75 to 100 percent on quality trophies. Our ranch hunts offer a non-competitive personal touch while enjoying very high game populations. Depending on the game hunted, the terrain ranges from agricultural lands, brushy creek bottoms, rolling prairie and sagebrush foothills, to pine and aspen covered mountains, rim-rocks and canyons. Due to the vast areas and wide variety of terrain that we control, we are able to accommodate virtually any hunter's physical abilities and individual interests, for a great hunt of their choice. Elevations range from 4,500 to 9,500 above sea level. Most hunting is done by accessing remote areas of the ranch with 4X4 vehicles, then glassing, spotting and stalking on foot. Accommodations vary on different hunts from deluxe wall tent camps, cabins or bunkhouses, to lodges or modern motel facilities. Husband and wife teams, as well as physically challenged hunters, are always welcome! Please ask for lodging and accommodation details on specific hunts.